Below are events, camps and other exciting "Fun Things" for your child to participate in. We continually add new items as they are received. So, check back often.
If you have something you would like us to consider for this page, please forward the information, via eMail to manningk@glcomets.net.

Relay For Life Eaton County 2018
Yes, you read that correctly! This year, we are excited to announce the communities within Eaton County will be joining forces to create the largest Relay For Life our area has seen in years! Although the Relay won't be taking place until May 19, 2018, we're getting the ball rolling early to generate as many teams and team members as possible.
So, mark your calendar for Saturday, May 19, 2018. The Relay will be held at Beagle Elementary School from 11:00 am to 11:00 pm!
For more information or to register a team, go to relayforlife.org/eatoncountymi or email EatonCoRFL@gmail.com.
If you have specific questions, please contact Katie Westen at westenk@glcomets.net.

2017-2018 GL Robotics Club
Click on the flyer for printable copy of registration forms.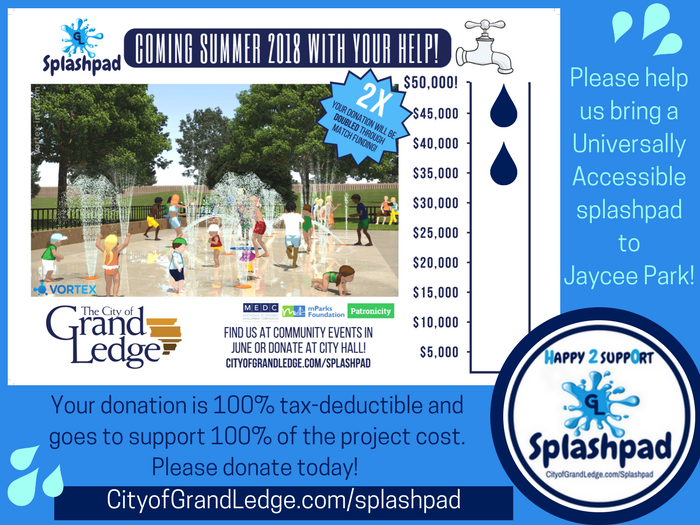 You asked for it Grand Ledge! Let's bring a splashpad to Jaycee Park! With your help through a "crowdfunding" campaign, the City of Grand Ledge has a unique opportunity to bring a Universally Accessible splashpad to beautiful Jaycee Park. The splashpad will cost $100,000+ to build. The City ONLY has until September 4, 2017 to raise $50,000 and when we do, the Michigan Economic Development Corporation and mParks Foundation will MATCH that with another $50,000. That means your donation of $10.00 will turn into $20.00, $50.00 will turn into $100.000, etc.! Please stop by the Music in the Park in the month of June to drop off your 100% tax deductible donation, or drop by City Hall, 310 Greenwood Street, Grand Ledge, Monday – Fridaybetween 8:00am – 5pm. Follow us on Facebook (@CityofGrandLedgeGovernment) for updates and check out our website, www.cityofgrandledge.com/splashpad, for more information.
Together we can bring a Universally Accessible splashpad to Jaycee Park! We need your help – please donate today!