District News

View Archives
May 19, 2017
Congrats to the Cast & Crew of Shrek the Musical

This year Shrek the Musical was entered into The Excellence Awards, which is open to high school musical theatre programs in Barry, Calhoun, Eaton and Ionia counties. The Excellence Awards strive to foster a spirit of collaboration between school theater programs while bringing recognition and validity to the work of students, staff and the communities. Adjudicators attend participating school productions and evaluate several aspects of the performances using a detailed rubric. Productions can receive between one and five stars in each category, and are given awards for the level of excellence reached. Grand Ledge High School's November 2016 production of Shrek the Musical was nominated in all 8 categories, and brought home 7 awards.
Best Ensemble – Cast of Shrek the Musical – Nominated
Best Direction – Tracy Clark, Director - Runner Up
Best Featured Character – Drew Nyquist, Big Bad Wolf – Runner Up
Best Supporting Actor – Mekhi Holloway, Donkey – Winner
Best Supporting Actress – Korey Hamilton, Dragon – Winner
Best Lead Actor – Marcus Jackson, Shrek – Winner
Best Lead Actress – Camille Adams, Fiona – Winner
Best Overall Production – Shrek the Musical – Winner
An awards ceremony was held at Lakewood High School on Sunday, April 29. Camille Adams and Marcus Jackson performed solo songs of their choice, and the dancers from the cast performed the tap number from the opening of Act Two, Morning Person, which featured Rats dancing with Fiona and the Pied Piper.
Congratulations to the cast and crew of Shrek the Musical and thank you to the Grand Ledge community for their continued support of Music Theatre and the arts in our schools.

May 15, 2017
Dismissal Times Altered for 1/2 Days at HMS & GLHS
In an effort to allow more time between the secondary and elementary bus runs on our half-days, we have altered the dismissal times slightly for Hayes MS and GLHS. These adjusted times will be in effect for May 26 and June 13, 2017.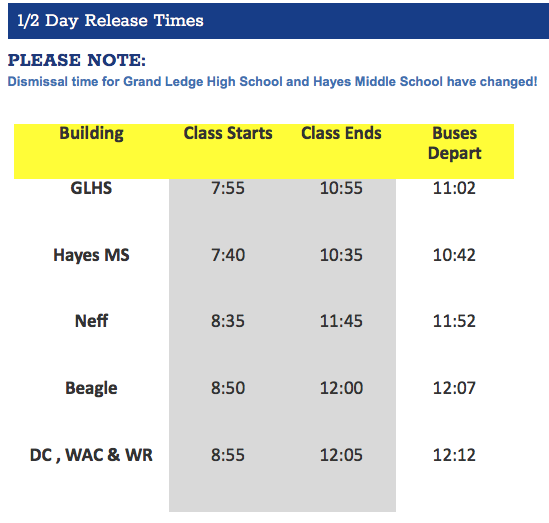 April 10, 2017
Spring 2017
February 15, 2017
2017-2018 Student Calendar
Grand Ledge Public Schools is pleased to share that we have finalized our 2017-2018 Calendar.

2017-2018 Calendar (Updated 2/16/17)
July 12, 2016
2016-2017 School Calendar
You can view the 2016-2017 school calendar in its entirety here.
Channel 21
News and Highlights from around the District