News & Announcements

View Archives
June 10, 2019
2019-2020 Open Houses
Please watch for summer updates to be mailed home in July. Two dates to put on the calendar are the 7th & 8th grade Open Houses. Between 8:00am-12:00pm students are invited to come and pick up their schedules, get their locker information and have their fall picture taken.
August 6, 2019: 7th Grade Open House
August 8, 2019: 8th Grade Open House
June 4, 2019
Freshman Orientation
Outgoing 8th graders: Information about Freshman Orientation:
August 12th, 2019
Evening: 5:30-8:00pm
Freshmen Orientation meeting at 6:00pm in the auditorium
Make-up Day for all grade levels (there will not be a freshmen orientation meeting)
June 3, 2019
Everson Guild Award Recipients
Last August, when students came to Hayes and learned about Comet PRIDE, they learned about being Positive, and Respectful, having Integrity, and determination, and always giving their best effort. Two summers ago, Grand Ledge lost someone who always showed his Comet PRIDE. Everson Guild tragically passed away before the start of this freshman year. Those who knew him, knew that he was a vibrant spirit who wanted to get the most out of everyday by making Hayes the best place it could be. Whether it was always trying his hardest in track, even if he wasn't the fastest, or wearing a Santa costume on spirit days, or inviting new students to sit with him at lunch or be part of his group, Everson truly showed Comet Pride everyday.
As we celebrate all of our students efforts to show Comet PRIDE this year, the staff at Hayes Middle School wanted to take a moment to give a special recognition to student(s) whom we feel demonstrated their Comet PRIDE in many of the same ways Everson did. These students, like Everson, made Hayes a better place to be.
In the spirit of Everson Guild, we would like to recognize Braylond Price (8th Grade) and Brenton Bell (7the Grade) for demonstrating Comet PRIDE throughout the year.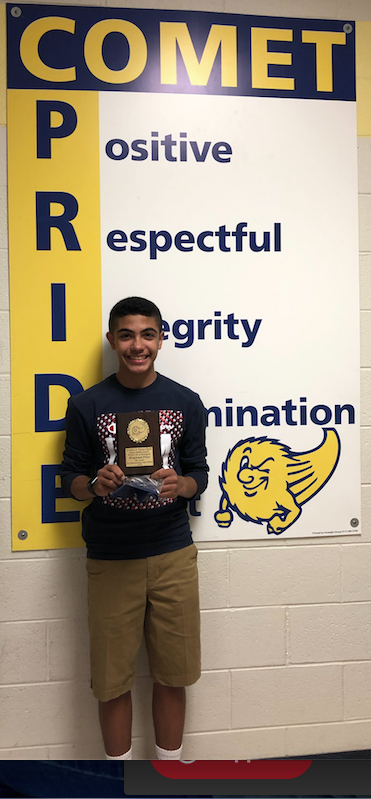 Braylond Price (8th Grade)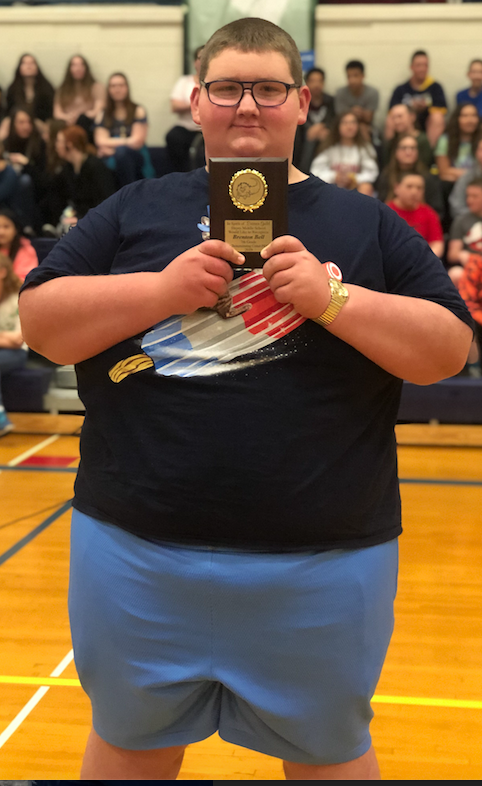 Brenton Bell (7th Grade)
May 30, 2019
Sports Physicals Available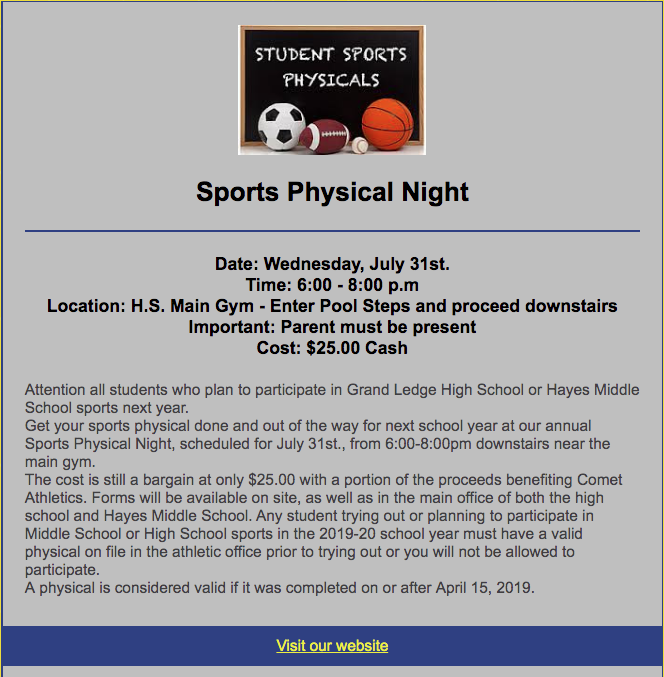 May 29, 2019
Girls High School Golf
GLHS Women's Summer Golf Swings/Workouts

Begin Tuesday June 4

5:00-6:30 at the Grand Ledge Country Club

They'll run Tuesdays and Thursdays through the summer

Contact Coach Miller with any questions (517) 449-7674 or
jmiller20@farmersagent.com
May 28, 2019
2019-2020 Cross Country Info
There will be 7th grade cross meeting on Friday, May 31st, 7:30 in room 207.
-Cross Country drop-in workouts will begin in August 6th at Island Park weather permitting.
-Cross Country practices will begin the second week of school and the first practice will be Monday August 26th.
-Participants must have a physical in order to participate.
-All messages and updates will be done through Remind. So please, sign up for our Remind Group.
/downloads/hayes_middle_school/ms_cc_2019_tentative_schedule.pdf
May 24, 2019
Middle School Football Info
First day of practice will be August 19th. Registration can happen online at www.grandledgecomets.org anytime after July 1.