Main Office Phone: (517) 925-5815

Attendance Phone: (517) 925-5818

Student Services: (517) 925-5900

FAX - 517-925-5934
Half Day for Students
Friday, October 19, 2018
There will be a half day of classes this Friday. Teachers have professional development in the afternoon. Classes are 30 minutes long, with dismissal at 10:55.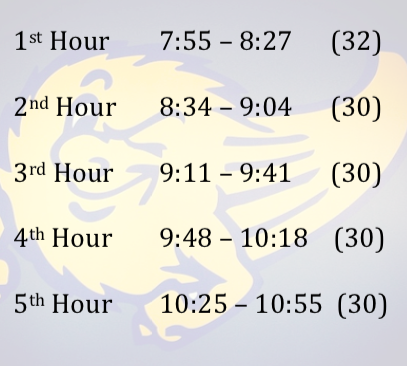 Seniors -
If you still need to order your Cap and Gown a representative from Herff Jones will be here Friday October 26th during both lunch periods.
College Month Campaign for Seniors
October 1st through 31st
Beginning Monday, October 1st, GLHS will kick off our College Month Campaign! We have some great prizes to give away! For students to qualify and have their name entered into the drawing each week, students must have their FAFSA completed as well as do one of the following and bring documentation to Student Services: • Complete at least one college application and show documented proof of application receipt • Sign with the military and have documentation from the military recruiter • Secure employment and have a signed letter from their employer. Click here for more information!
Here's the prize list:
Friday, October 5 - Printer/Copier - Abby Ford
Wednesday, October 10 - 2 Prom Tickets - Macie Hefron
Friday, October 12 - Luggage - Trinity Sibanda
Wednesday, October 17 - Igloo Cooler & Yearbook
Friday, October 19 - Printer/Copier
Wednesday, October 24 - Dinner & Movie for 2
Friday, October 26 - Microwave
Wednesday, October 31 - Dorm-size Refrigerator
LCC Career Prep Visit for 9th and 10th Grade Students
Tuesday, December 18, 2018
Students in 10th and 11th grade can learn about the Eaton RESA Career Preparation Center programs by attending the Visitation Day Field Trip. Students must be in good standing with academics and attendance and on track to graduate to attend.
Location: Eaton RESA Career Prep Center at LCC West

Date:

Tuesday, December 18, 2018

Time:

11:50am

–

2:15

- Students are responsible for making up missed classwork.
Transportation and supervision are provided by Grand Ledge High School and Eaton RESA. Students must ride the school buses provided. There is NO cost to attend the field trip or to enroll in programming for next year. For more information and to complete the field trip permission slip, please click here. Permission slips are due by Friday, November 9th!
Newsies the Musical
November 8th through 11th
Tickets are now on sale for the fall musical! Visit www.glmusicals.net for ticket and cast information.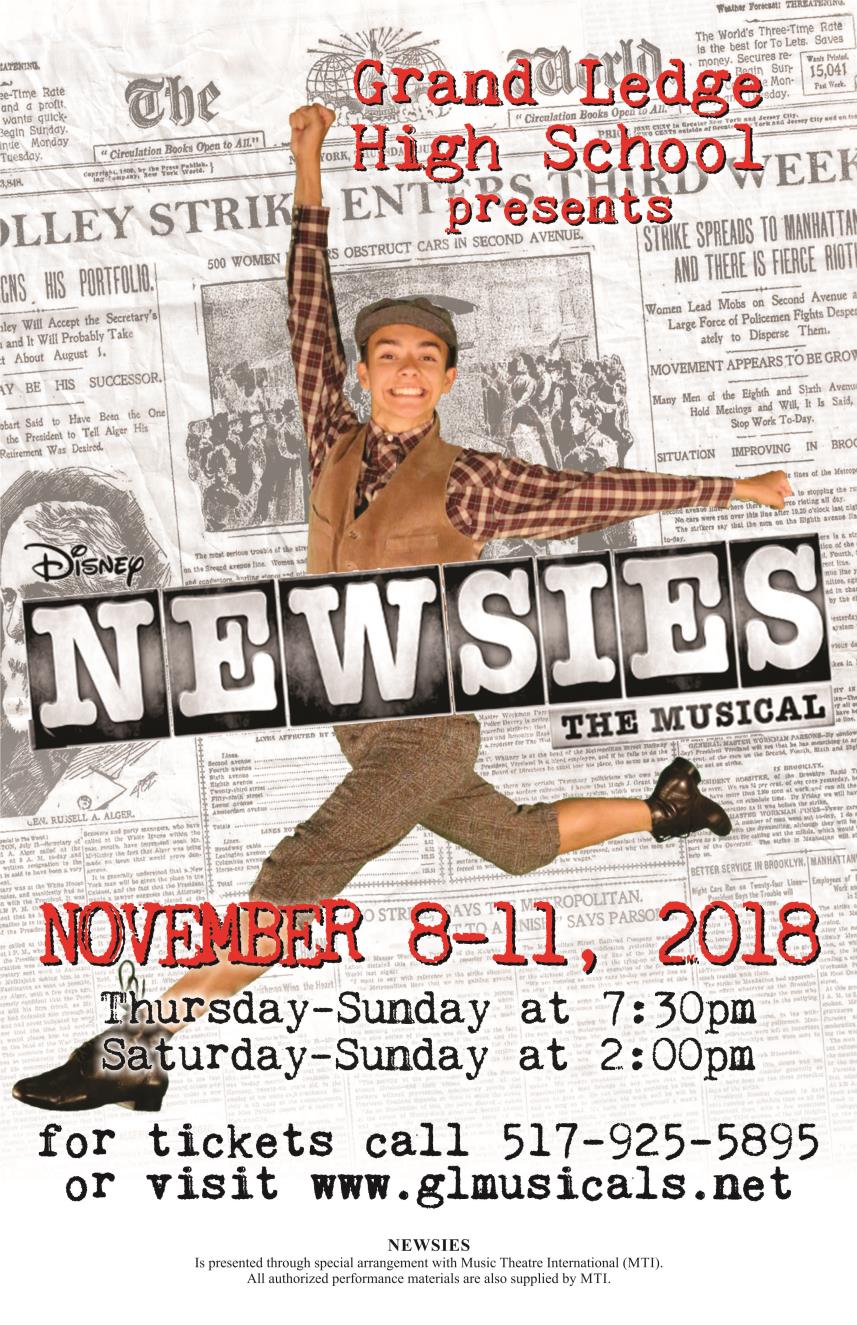 Need Academic Support?
Check out the Student Services page for GLHS Intervention Center information along with other local services.
LCC Career Prep Students
Not sure if you have to attend LCC when GLHS has an amended schedule? Check below under the block Career Prep Center Calendar to find out!
2018 Bond Proposals
Click the button for information on the GLPS Bond Proposals. Voting is November 6th, 2018.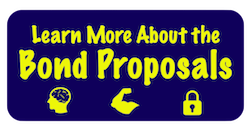 Student News
October 12, 2018
2018-19 Yearbooks are now on sale!
Purchase online today by clicking on the box below or using the web address listed! When ordering, please use ID# 13546819 for Grand Ledge High School.

2017-18 Yearbook Pick-Up
Yearbooks from last school year can be picked up before or after school in Ms. Wolke's room, room 113.
Yearbooks must be picked up by the GLHS student. Parent/sibling pick-up is not allowed. Please bring your school ID with you.​


Class of 2018 Top 25 Scholars
1

Oliver Zay

11

Sarah McNeilly

21

Nathaniel Nelson

2

Michaela Donahue

12

Olivia Belding

22

Varsha Vinod

3

Glenn McDevitt

13

Christopher Norello

23

Callahan Riggs

4

Victoria Judd

14

Ryan Koschay

24

Reyna Estrada

5

Greggory Stevens

15

Carolyn Morgan

25

Lauren Mehram

6

Hannah deSilva

16

Chandler Drake

7

Nolan Fox

17

Janna Vukovich

8

Cole Williams

18

Hannah Schafer
GLHS Athletics: Events, Cancellations, Delays & More
GL Public Schools - FaceBook
Letter from Principal Mangrum
Welcome to Comet Country!
Grand Ledge High School is known for its distinguished student achievement and quality educational programs. Whether pursuing academics, athletics or fine arts, our students continually experience high degrees of success.
Grand Ledge High School we are proud of our:

Outstanding Academics
Award Winning Fine Arts
Comprehensive Athletic Program
Quality Facilities
Safe, Positive Environment
It is our mission to provide quality-learning opportunities in order to help all of our students to perform at the highest level of their abilities. If you have any questions about Grand Ledge High School or our programs, please do not hesitate to contact one of my Assistant Principals or me.
Proud to be a COMET!!
Jill Mangrum
Principal
Normal Class Schedule
1st Hour - 7:55 - 9:05
2nd Hour - 9:12 - 10:23
A Lunch - 10:23 - 10:53
3rd Hour A - 11:00 - 12:11
3rd Hour B - 10:30 - 11:41
B Lunch - 11:41 - 12:11
4th Hour - 12:18 - 1:28
5th Hour - 1:35 - 2:45​​


2 Hr Delay Schedule
1st Hour - 9:55 - 10:43
2nd Hour - 10:50 - 11:36
A Lunch - 11:36 - 12:06
3rd Hour A - 12:13 - 12:59
3rd Hour B - 11:43 - 12:29
B Lunch - 12:29 - 12:59
4th Hour - 1:06 - 1:52
5th Hour - 1:59 - 2:45

Half Day AM
1st Hour - 7:55 - 8:27
2nd Hour - 8:34 - 9:04
3rd Hour - 9:11 - 9:41
4th Hour - 9:48 - 10:18
5th Hour - 10:25 - 10:55
Comet Pride Schedule
1st Hour - 7:55 - 9:31
2nd Hour - 9:38 - 10:42
A Lunch - 10:42 - 11:12
3rd Hour A - 11:19 - 12:23
3rd Hour B - 10:49 - 11:53
B Lunch - 11:53 - 12:23
4th Hour - 12:30 - 1:34
5th Hour - 1:41 - 2:45
Main Office Hours
The GLHS Main Office is open from 7:00 AM - 4:00 PM each day school is in session.
Grand Ledge CPC Student Calendar
Click on the calendar for a PDF file. For more Career Prep Information click here.

We have some days in the schedule that will cause confusion for our Career Prep Center students. Please refer to the attached to clarify any questions that students may have regarding Trimester 1.