Parent Teacher Conferences are happening tonight (Thursday, April 25th)

Since power has been restored, GLHS will be doing parent-teacher conferencs tonight as scheduled. See you this evening!

Main Office Phone: (517) 925-5815

FAX - 517-925-5829

Attendance Phone: (517) 925-5818

Student Services: (517) 925-5900

FAX - 517-925-5934



CLICK HERE for the complete list of school announcements.

Top 25 Scholars
Seniors - Google Drive and Gmail
Your google drive accounts will be automatically deleted as early as June 5, 2019. If you have not already done so, we encourage you to create a personal email account for anything not related to high school including but not limited to friends, family, college applications, etc. Your glcomets.net account is actually a Gmail account, so if you like the way it works you may visit www.gmail.com to set up a personal account. Best wishes for graduation and beyond from the Technology Department.
Cap & Gowns For Graduation
Friday, April 12th
All orders will be available for pick-up during both lunch periods in the hallway adjacent to Student Services.
Senior Mandatory Meeting
Wednesday, May 1st at 10:55 AM
The senior meeting will be held at the lower level gym at 10:55 AM. This will not interfere with lunch or Career Center schedule.
Senior Recognition Program
Tuesday, May 21st at 8:30 AM
The Senior Recognition Program will be held in the HS Auditorium from 8:30 AM to 10:30 AM. Seniors meet in the New Gym at 8:00 AM with graduation gown. Caps and tassels will not be worn at this event.
Senior Locker Clean-Out
All Seniors must have everything removed from their locker by the end of the day on Thursday, May 23rd. Anything left in the lockers after May 24th will be disposed of. As a reminder, seniors that are sharing a locker with an underclassman should notify them of the locker clean-out. All senior lockers will be re-assigned to incoming freshmen.
May 24th - Senior's Last Day
Senior's last day is also a half day with an early dismissal at 10:55am, we will be closing the high school at 11:00am.
Graduation - MSU Breslin Ctr
Friday, June 7th at 7:00 PM
**PLEASE NOTE- SECURITY POLICY AT BRESLIN CENTER** The Breslin Center has a "NO BAG" policy as well as metal detectors all guests must pass through. No purses or bags are allowed in the building (this includes camera bags or camcorder bags). Cell phones and pagers are permitted. You may bring medical supplies or diaper bag necessities in a clear plastic gallon bag. Compact umbrellas are permitted, no large umbrellas, no metal tips. Everything else must fit in your pocket.
Seniors will not be allowed to enter the Breslin Center via the ramp. They will enter through the main gate, pass through the metal detector, and security personnel will be available to direct them to the stairway leading to the tunnel.
Click below on Winkie the Comet for details.
Need Academic Support?
Check out the Student Services page for GLHS Intervention Center information along with other local services.
LCC Career Prep Students
Not sure if you have to attend LCC when GLHS has an amended schedule? Click here to find out!

Saturday School Dates for 3rd Trimester
If a student has been absent 7 or more times in any class this trimester without medical documentation, they are at risk of losing credit and participating in any extra curricular activities and therefore will need to attend Saturday School to recover credit.

Saturday School will be held on the following dates from 8:00 - 11:00am in the Media Center:
April 27th (this is the ONLY Saturday School before Prom)
May 18th (this is the last Saturday School for seniors)
June 1st
Please contact the Dean of Students to schedule Saturday School if needed to ensure credit.
Student News
April 19, 2019


Click here to read the latest online edition of Grand Ledge High School's student newspaper.




Click above to view a PDF of the Spring 2019 Edition of the Insider! The newsletter includes information about local activities in the Grand Ledge area such as community events and construction updates, along with information about the GLPS Bond, school events, and more.

Information from Barry-Eaton District Health Department
April 17, 2019 - The Barry-Eaton District Health Department has asked schools to share some information about measles. Click here to read the flyer they asked to be shared with parents and students.
GLHS Mid Year Newsletter
Click here to view the newsletter.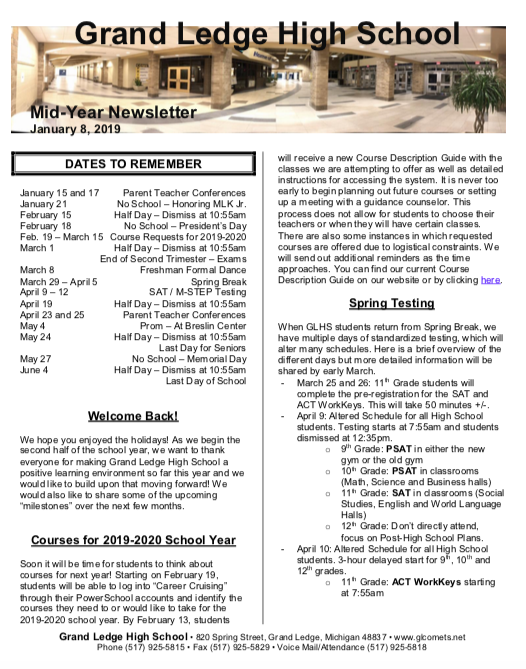 Class of 2019 Top 25 Scholars
1

Anthony Rodeman

10

Trinity Thelen

19

Estelle Matthews

2

Pratiksha Boinapally

11

Samuel Konen

20

Braden King

3

Claire Blaske

12

Emma Rodeman

21

Phyllis Feldpausch

4

Scott Thomas

13

Jennifer Feenstra

22

Payton Cole

5

Priya Razdan

14

Nicholas Mamaligas

23

Sara Peeper

6

Jennifer Huelskamp

15

Tyler Matson

24

Matthew Jackson

7

Stanley Elder

16

Sarah Heinowski

25

Samantha Bennett

8

9

Reed Stevens

Alexander Pakkala

17

18

Melanie Vukovich

Kaylin Brown
GLHS Athletics: Events, Cancellations, Delays & More
GL Public Schools - FaceBook
Letter from Principal Mangrum
Welcome to Comet Country!
Grand Ledge High School is known for its distinguished student achievement and quality educational programs. Whether pursuing academics, athletics or fine arts, our students continually experience high degrees of success.
Grand Ledge High School we are proud of our:

Outstanding Academics
Award Winning Fine Arts
Comprehensive Athletic Program
Quality Facilities
Safe, Positive Environment
It is our mission to provide quality-learning opportunities in order to help all of our students to perform at the highest level of their abilities. If you have any questions about Grand Ledge High School or our programs, please do not hesitate to contact one of my Assistant Principals or me.
Proud to be a COMET!!
Jill Mangrum
Principal
Normal Class Schedule
1st Hour - 7:55 - 9:05
2nd Hour - 9:12 - 10:23
A Lunch - 10:23 - 10:53
3rd Hour A - 11:00 - 12:11
3rd Hour B - 10:30 - 11:41
B Lunch - 11:41 - 12:11
4th Hour - 12:18 - 1:28
5th Hour - 1:35 - 2:45​​


2 Hr Delay Schedule
1st Hour - 9:55 - 10:43
2nd Hour - 10:50 - 11:36
A Lunch - 11:36 - 12:06
3rd Hour A - 12:13 - 12:59
3rd Hour B - 11:43 - 12:29
B Lunch - 12:29 - 12:59
4th Hour - 1:06 - 1:52
5th Hour - 1:59 - 2:45

Half Day AM
1st Hour - 7:55 - 8:27
2nd Hour - 8:34 - 9:04
3rd Hour - 9:11 - 9:41
4th Hour - 9:48 - 10:18
5th Hour - 10:25 - 10:55
Comet Pride Schedule
1st Hour - 7:55 - 9:31
2nd Hour - 9:38 - 10:42
A Lunch - 10:42 - 11:12
3rd Hour A - 11:19 - 12:23
3rd Hour B - 10:49 - 11:53
B Lunch - 11:53 - 12:23
4th Hour - 12:30 - 1:34
5th Hour - 1:41 - 2:45
Main Office Hours
The GLHS Main Office is open from 7:00 AM - 4:00 PM each day school is in session.
Grand Ledge CPC Student Calendar
Click on the calendar for a PDF file. For more Career Prep Information click here.

We have some days in the schedule that will cause confusion for our Career Prep Center students. Please refer to the attached to clarify any questions that students may have regarding Trimester 2.