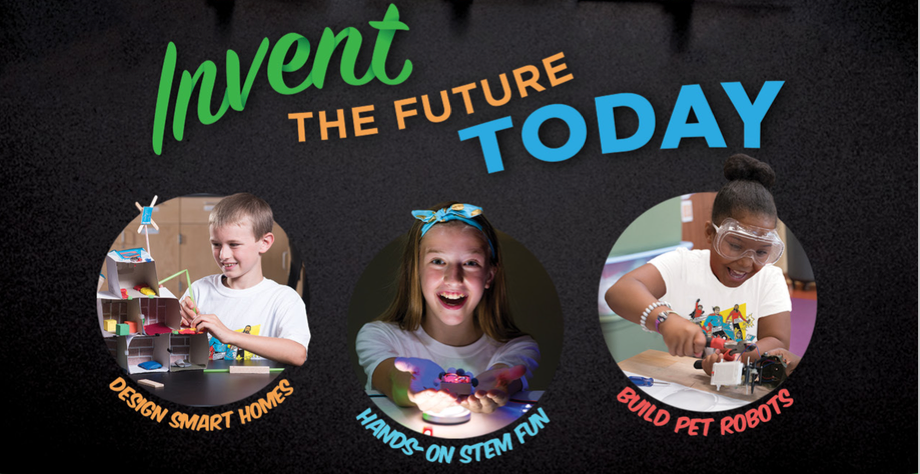 Let's Invent The Future TODAY!
The all new 2018 Camp Invention program will provide your child with fun, hands-on activities that encourage creative problem solving, teamwork, entrepreneurship and curiosity.
This is an exciting, week-long summer adventure with activities that explore connections between science, technology, engineering and innovation and sharpen 21st century skills. Camp Invention is a program of the National Inventors Hall of Fame
, a non-profit organization dedicated to advancing the future of innovation and STEM. Program activities are led by experienced, local educators and inspired by the world-changing inventors that have been Inducted in the Hall of Fame. Camp Invention allows children in Kindergarten through 6th grade to experience real-world problem solving, creative thinking, invention and teamwork!
This year, our own Tricia Bentar will lead a week of hands-on activities that fuel children's confidence in their natural ability to dream and create. Early registration discounts are available.
The Camp Invention curriculum is new each and every year to ensure participants have a dynamic and memorable summer experience!
Click the

below to learn more about each of the modules in this year's program.
Optibot™
In Optibot™, children will launch into the future with their own Optibot - a small self-driving bot that senses changes in light. Exploring the technology behind transportation, children will design the ultimate futuristic vehicle that might one day be reality!
In Optibot™ children will:
Design tracks for their bots to follow while exploring different modes of transportation.
Explore impact sensors using a small-scale crash test dummy.
Discover how sensors are used in autonomous vehicles.
Personalize their own line tracing robot to take home.
Robotic Pet Vet™
Animal shelters are reporting that malfunctioning robotic dogs have been popping up all over town. Hurry and tell your young inventor to grab their vet kit because there's only one cure for these pups - innovation! Throughout this module, campers diagnose puppy problems and design and build dog parks as they hammer out ideas for the best dog park attraction.
In Robotic Pet Vet™ children will:
Use tools to take apart robotic dogs and compare their inner mechanics to the anatomy and physiology of a real dog.
Explore spatial reasoning and design engineering as they construct a dog park.
Analyze simple machines and circuits used to make the dog move, bark and light up.
Customize their own robotic dog to take home.
Mod My Mini Mansion™
Your child will dream up and design their very own futuristic smart home filled with gadgets, LED's, technology and innovation! From talking mirrors to toasters that know how to cook their favorite foods, your child will invent and build models of these smart gadgets and gizmos.
In Mod My Mini Mansion™ children will:
Make their own take-home mini mansion.
Discover the Internet of Things and how smart devices are connected and controlled.
Explore renewable sources to power up their eco-smart mini mansions.
Change letters into numbers using binary code to create a message.
Stick To It™
Campers will invent something new every day as they explore what it's like to be a physicist, engineer and entrepreneur. Daily challenges inspire campers to bring their own ideas to the table, think big, preserve and get to the heart of what it means to be an inventor. Your young innovator will invent, make and craft solutions to real-world challenges by building their own prototypes and discovering that anything is possible!
In Stick To It™ children will:
Make their own dancing dinosaur using a mechanical gear box in the "Dance to Your Own Beat" challenge.
Create a robotic arm to retrieve silver coins in the "Silver Lining" challenge.
Build a plush cupcake catapult in the "It Will Be a Piece of Cake" challenge.
Explore chemistry, non-Newtonian fluids and magnetism as they investigate magnetic slime.